Posts for: July, 2013
By Peter Jost, D.D.S., P.C.
July 23, 2013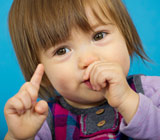 For many parents, the image of an infant intently absorbed in sucking a pacifier — or her own thumb — is one of the cherished memories of babyhood. But if this habit goes on for too long, it can cause problems with the child's bite. Want to know what the potential predicaments are, when you should be concerned about the behavior, and what you can do? Read on!
Thumb sucking is a natural, comforting behavior of humans (and some other primates) related to nursing. It usually goes away on its own by the time the permanent teeth are coming in. But it can be a hard habit to break — and if it becomes a persistent behavior, the consequences may include a problem called an "open bite."
In a normal bite, the top teeth slightly overlap the bottom teeth. When the thumb (or any other object) constantly rests between the upper and lower teeth, however, the pressure it exerts may prevent the teeth from fully erupting (coming out from the gums into the mouth) and alter the shape and development of the upper and lower jawbone. This result is a gap between the upper and lower teeth.
The same problem may also be caused by prolonging the "infantile swallowing pattern," a forward-thrusting position of the tongue which, like thumb sucking, normally begins to cease around age four. That's when it is replaced by the adult swallowing pattern, where the tongue is held behind the teeth, against the roof on the mouth. Researchers believe that most open bites result from the failure to change from the infantile to the adult swallowing pattern.
When should you be concerned about the thumb sucking habit? If the behavior continues much past toddlerhood, or if the sucking is particularly active, you may wish to have us evaluate your child's bite. The American Academy of Pediatric Dentistry recommends having the habit stop by age 3. Persistent thumb sucking can actually push the teeth forward and change the growth patterns of the jaw, creating more difficult problems.
There are several methods for controlling the behavior and correcting problems with the bite. One is an appliance called a "tongue crib." This thin metal device is placed behind the upper and lower incisors. It discourages thumb sucking, while at the same time helping to keep the tongue from inserting itself between the upper and lower teeth. Eliminating these unhelpful habits is essential to allow the teeth to erupt into proper position and to allow for the normal development of the jawbones.
Recent research has also shown that individualized exercise routines called orofacial myofunctional therapy (OMT) can be highly effective in preventing open bite relapses. These exercises are designed to retrain muscles in the face, tongue and lips, and can help to create good chewing and swallowing patterns.
If you would like more information about thumb sucking or children's bite problems, please contact us or schedule an appointment for a consultation. You can also learn more about these issues by reading the Dear Doctor magazine article "How Thumb Sucking Affects The Bite."
By Peter Jost, D.D.S., P.C.
July 08, 2013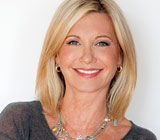 Singer Olivia Newton-John's daughter Chloe is now a lovely, grown woman, but Olivia recently recounted to Dear Doctor magazine a rather creative method she found to sooth Chloe's teething troubles many years ago.
"When Chloe was a baby and teething I remember using a frozen bagel for her sore gums," Olivia said. "She loved it!"
Cold is often very soothing to a teething child's gums. In fact, the American Academy of Pediatric Dentistry (AAPD) recommends using a clean, chilled, rubber teething ring, or cold wet washcloth. Chilled pacifiers can also be helpful. Be sure not to freeze teething rings or pacifiers as ice can actually burn sensitive mouth tissues.
Older teethers can sometimes find relieve from cold foods such as popsicles (or bagels!) but make sure your child eats these sugar-containing foods only at mealtimes so as not to promote tooth decay.
If your baby has not yet begun the teething (or tooth-eruption) process, you can expect it to begin usually between six and nine months. It may, however, start as early as three months or as late as twelve months.
Teething symptoms vary among children, as does the length of time it takes for a tooth to make its appearance. But many parents notice the following signs:
Irritability
Biting and gnawing
Gum swelling
Chin (facial) rash
Disrupted sleeping patterns
Ear rubbing
Drooling
Decreased appetite
These symptoms are usually most bothersome during the week that the tooth is breaking (erupting) through the gums, starting about four days before and lasting about three days after the tooth appears.
Occasionally, teething discomfort can be considerable. If that is the case with your baby, you can give her or him acetaminophen or ibuprofen in the appropriate dose (check with your pharmacist if you're not sure what that is). The medicine should be swallowed — not massaged into the gums, as this can also burn. Numbing agents should not be used for children under 2, except under the advice and supervision of a healthcare professional.
If you would like to learn more about teething or any other child-related oral health issue, please contact us or schedule an appointment for a consultation. If you would like to read Dear Doctor's entire interview with Olivia Newton-John, please see "Olivia Newton-John." Dear Doctor also has more on "Teething Troubles."