Posts for: October, 2013
By Peter Jost, D.D.S., P.C.
October 30, 2013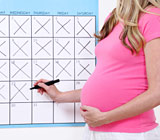 Every pregnant woman knows that her body will go through a series of profound changes as it's making a new life. Along with the alterations in overall size and changes in eating and sleeping patterns, pregnancy also affects the teeth and gums. Here are some answers to common questions women may have about oral health during pregnancy.
1) What's the most important thing I can do for my baby's oral health?
Maintain your own dental and general health! Eat a healthy and balanced diet — it provides the nutrients, vitamins and minerals needed for proper development of your baby's teeth and bones. While food cravings and aversions are common, try to at least limit your intake of sugary snacks to mealtimes. Don't neglect the good habits of brushing, flossing, and seeing your dentist regularly. This will help minimize the possibility of tooth decay or gum disease.
2) Does pregnancy make me more susceptible to gum disease?
Yes. "Pregnancy gingivitis" ("gingival" – gum tissue; "it is" – inflammation of) may develop from the second to the eighth month. This is mostly due to elevated hormone levels. In the presence of gum disease, pregnancy hormones may stimulate the production of prostaglandins, which cause inflammation of gum tissues. Occasionally, benign growths called "pregnancy tumors" may also appear on the gums during the second trimester. If they don't resolve themselves, these may be surgically removed after the baby is born.
3) With all my other concerns right now, why is the health of my teeth and gums so important?
Several studies have shown a link between periodontal (gum) disease, pre-term delivery and low birth weight — conditions which put some newborns at greater risk for health complications. There's also a correlation between more severe periodontal disease and an increased rate of pre-eclampsia, a potentially serious condition. But treating periodontal disease decreases the level of inflammation-causing prostaglandins. That's one reason why you should come into our office for an evaluation as soon as you know you're expecting.
4) Is it safe to get dental treatments while I'm pregnant?
Dental examinations and routine treatment during pregnancy is generally safe for both mom and baby. If you need non-urgent dental care, it may be most comfortable in the first five months of pregnancy. Situations requiring urgent care are managed as they arise, to treat pain and infection and to reduce stress to the developing fetus. Under the watchful eye of your dentist, it's possible to have anesthesia, X-rays and dental medications (if needed) without undue risk. So don't let worries about dental treatments keep you from coming in for a check-up!
If you would like more information about pregnancy and oral health, please contact us or schedule an appointment for a consultation. You can also learn more about this topic by reading the Dear Doctor magazine articles "Pregnancy and Oral Health," and "Expectant Mothers."
By Peter Jost, D.D.S., P.C.
October 15, 2013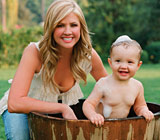 During Nancy O'Dell's interview with Dear Doctor magazine, the former co-anchor of Access Hollywood and new co-anchor of Entertainment Tonight could not resist her journalistic instincts to turn the tables so that she could learn more about a baby's oral health. Here are just some of the facts she learned from the publisher of Dear Doctor about childhood tooth decay, pacifier use and what the right age is for a child's first visit to the dentist.
Many moms-to-be and parents or caregivers of young children are surprised to learn that around age 1 is the ideal time to schedule a child's first visit to the dentist. This visit is crucial because it sets the stage for the child's oral health for the rest of his or her life. It can also be quite beneficial for the parents, too, as they can be reassured that there are no problems with development and that the child's teeth appear to be growing properly. And if by chance we identify any concerns, we will discuss them with you as well as any necessary treatment strategies.
Nancy also wanted to learn more about pacifiers — specifically, if it is a good idea for parents to encourage their use. Obviously, children are born with a natural instinct for sucking, so giving a child a pacifier seems totally harmless. Pacifiers definitely have some advantages; however, if used for too long — past the age of 18 months — they can cause long-term changes in the child's developing mouth (both the teeth and the jaws).
Another problem that parents and caregivers need to be aware of is baby bottle syndrome. This is a condition that develops in children who are perpetually sucking on a baby bottle filled with sugary fluids such as formula, fruit juices, cola or any liquids containing a large amount of sugar, honey or other sweeteners. It is important to note that a mother's own breast milk or cow's milk are good choices for feeding babies, as they both contain lactose, a natural sugar that is less likely to cause decay. However, if these liquids are placed in a bottle and a child is allowed to suck on it throughout the night, they, too, can promote tooth decay. The key is to feed your child properly while avoiding all-night feedings and liquids loaded with sugar.
To read the entire Dear Doctor magazine article on Nancy O'Dell as well as to learn more about a baby's oral health, continue reading "Nancy O'Dell — A life full of smiles." Or you can contact us today to schedule an appointment so that we can conduct a thorough examination, listen to your concerns, answer your questions and discuss any necessary treatment options.