Posts for: November, 2014
By Peter Jost, D.D.S., P.C.
November 26, 2014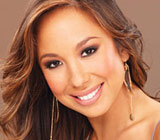 Growing up with a dentist stepdad, Cheryl Burke of Dancing with the Stars heard a lot over the years about the importance of good oral hygiene — in particular, the benefits of using dental floss.
"My dad would say, 'make sure you floss,' but I never really listened to him. I was very, very stubborn," Cheryl told Dear Doctor magazine recently in an exclusive interview. Cheryl admits this stubbornness took its toll, in the form of tooth decay. "I definitely had my share of cavities," Cheryl recalled.
Cavities can form when food particles, particularly sugar and carbohydrates, are not effectively cleaned from the spaces between teeth. These particles are then broken down by bacteria naturally present in the mouth, resulting in the production of acids that attack the tooth enamel.
When she reached her twenties, Cheryl decided she really needed to step up her oral hygiene and cultivate an asset so important to a professional dancer: a beautiful smile. And once she did, cavities became a distant memory.
"I think when you do floss frequently, it helps to reduce the chances of getting cavities," Cheryl said. "It took me a while to figure it out." Now Cheryl flosses after every meal. "I carry floss with me wherever I go. I have no shame busting out my floss in the middle of a restaurant!" She declared.
Dental decay is actually a worldwide epidemic, especially among kids. Untreated, it can lead to pain, tooth loss, and, because it is an infectious disease, it may even have more serious systemic (whole body) health consequences. The good thing is that it is entirely preventable through good oral hygiene at home and regular professional cleanings here at the office.
If it has been a while since you or your children have seen us for a cleaning and check-up, or you just want to learn more about preventing tooth decay, please contact us to schedule an appointment for a consultation. If you would like to read Dear Doctor's entire interview with Cheryl Burke, please see "Cheryl Burke." Dear Doctor also has more on "Tooth Decay: The World's Oldest & Most Widespread Disease."
By Peter Jost, D.D.S., P.C.
November 11, 2014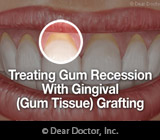 Did you know that millions of Americans have some degree of gum recession? Are you one of them?
Gum recession is the loss of the pink gum tissue that surrounds your teeth and can lead to exposure of the root surface of your teeth. In addition to the obvious aesthetic issues, recession can also result in tooth loss in very severe cases.
So, what causes gum recession? Well, first of all, if you are genetically predisposed to having thin gum tissues, your gums will be more prone to receding than those with thick tissues. However, other factors include ineffective oral hygiene, excessive brushing and mal-positioned teeth. In addition, poor fitting appliances, such as partial dentures can also cause gum recession.
If you think you are suffering from gum recession, you should make an appointment with us immediately, so that we can perform a thorough examination to accurately diagnose your condition. We'll look at your teeth and their position within the supporting bone and surrounding gum tissue. Depending upon our diagnosis, we may recommend a technique known as gum or soft tissue grafting, which allows us to regenerate lost or damaged gum tissue. Grafting is the surgical manipulation of tissue, taking it from one site and moving it to another, so that it can attach and grow.
There are two basic gum tissue grafting techniques, the free gingival graft and the connective tissue graft. Here is a description of each:
Free Gingival Grafting. With this technique, we remove a thin layer of tissue from the roof of your mouth or any other site where the tissues are identical to gum tissue (the donor). We then shape and transplant it to the recipient site to create new gum tissue. Both donor and recipient sites heal within two to three weeks.
Connective Tissue Grafting. This technique is used to cover exposed roots in the treatment of gum recession. It involves more microsurgical maneuvers to prepare both the donor and recipient sites. We take donor tissue from beneath the surface of the roof of your mouth and then cover it with the gum tissue surrounding the exposed root. Another alternative is to use processed tissue rather than your own tissue as a donor material.
When you visit us for an appointment, we will assess which procedure is best-suited to your needs.
If you would like more information about gum recession and plastic surgery, please contact us or schedule an appointment for a consultation. You can also learn more by reading the Dear Doctor magazine article "Periodontal Plastic Surgery."