Posts for tag: dental crowns
By Peter Jost, D.D.S., P.C.
February 28, 2019
To keep yourself protected from the cold, you put on a sweatshirt or coat. This same concept is applied to dental crowns, which protect
fragile or damaged teeth from further problems. Dr. Peter Jost, your family dentist in Eastpointe, Michigan, routinely uses crowns for his patients who need them to keep their smile functional and looking great. Read on to learn more!
What are dental crowns?
A crown is essentially an artificial tooth that is hollow in the middle. It fits over and is adhered to the top of a tooth that has sustained damage from trauma or decay above the surface of the gums. Crowns keep the roots of the teeth intact while protecting the top of the weakened tooth, an action that allows you to retain normal oral functionality.
Modern crowns have been in use since the early 1900s, when an American dentist first patented a porcelain crown that looked very much like the ones your Eastpointe family dentist still uses today! However, archaeological digs in the Philippines have also uncovered gold coverings designed to fix and replace damaged or missing teeth from some 4,000 years ago! Today, crowns can be made from porcelain, resin, or metals such as silver and gold.
How can a crown help me?
Years of dental industry research have shown that maintaining permanent teeth as long as possible is one of the keys to good overall dental health. However, accidents happen and many people experience a lapse in regular checkups with their dentists at some point in their lives. This may lead to breakage or cavities that are too large to be repaired with a standard filling. In these instances, a crown can be used to make sure that a damaged permanent tooth is as close to restored as possible. This keeps the roots of the tooth stable and allows you to chew comfortably and smile confidently. Crowns are also used to stabilize bridges, which fill in gaps caused by missing teeth.
If you have decay or a damaged tooth and are ready to look and feel better with dental crowns, contact the family dentistry practice of Peter Jost in Eastpointe, Michigan, for an appointment today! Our number is (586) 771-1460.
By Peter Jost, D.D.S., P.C.
March 03, 2014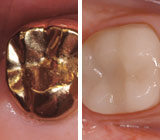 A "crown" or a "cap" is the term used to restore a decayed or broken tooth that needs to be completely encased to protect the tooth beneath it. A crown's dual purpose is to restore the tooth's form and function. Decades ago gold was the material of choice for a crown. What we ultimately choose depends on a particular crown's requirements with regard to the tooth's appearance and function, and to some extent what you want.
Gold: Gold crowns last the longest and wear the best (at about the same rate as natural teeth), but they are not used as frequently today, especially if they are visible in a person's smile. Gold crowns are made of cast gold, a technique that has been in use for over a hundred years. They can last for decades, and have been known to last 50 years or more. They tend to cost less per tooth than porcelain or other materials.
All-Porcelain: "All porcelain" crowns have a natural appearance and as technology improves they are gaining popularity. Dental porcelains are composed of ceramic substances that are variations of glass. This gives them their translucent, lifelike appearance — but it makes them brittle and subject to fracture. Therefore all-porcelain crowns may not be a good choice for back teeth because they frequently fail under the biting forces applied during chewing and especially adverse habits like tooth clenching or grinding. Porcelain crowns are made of material that doesn't wear. Consequently, it can cause excessive wear to the teeth they bite against.
Porcelain-Fused-to-Metal (PFM): PFM crowns have been in use for more than 40 years. They combine a substructure of gold or platinum for strength and have porcelain "facings" for the visible surfaces. In some ways they combine the best of both worlds, but they do have some problems; the metal can show through the porcelain, detracting from its life-like appearance. These crowns can have a functional lifespan of about 20 years or more.
New and Future Materials: Newer "pressed-ceramic" restorations and computer-milled ceramics have received good reviews for aesthetics and service. These new materials are being intensively researched. Initial results look good, but we'll have to see how they last over time.
Contact us today to schedule an appointment or to discuss your questions about crowns and other dental restorations. You can also learn more by reading the Dear Doctor magazine article "Gold or Porcelain Crowns?"