Posts for tag: dental implant
By Peter Jost, D.D.S., P.C.
May 27, 2019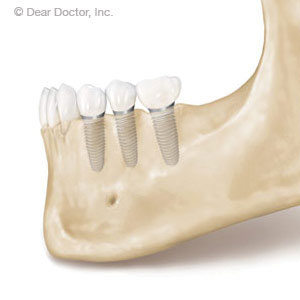 Losing teeth continues to be an all too common experience for people, especially those in their senior years. Fortunately, there are several ways to replace them, ranging from partial or full dentures to implants.
Some, though, postpone or simply choose not to replace a lost tooth, often because of the cost. But putting off a dental restoration could have a long-term impact on your health, and not in a good way. Continuing bone deterioration is one of the top consequences of delayed restoration.
Like other bones in the body, the jawbone is living tissue with cells that form, grow and eventually wear out. At the end of their life, these older cells give way to new cells. Eating and chewing play an important role in maintaining this growth cycle: the forces we generate as we chew travel up through the tooth roots to stimulate bone growth in the jaw.
When a tooth goes missing, though, the stimulus ends. Over time the bone cell replacement rate can fall off and the bone slowly loses volume. To make matters worse, bone loss can continue beyond the immediate bone underlying the tooth and affect the rest of the jawbone. The jaw can shrink in height and width, and in time become weaker overall and more susceptible to fracture.
But dental implant restorations in particular could help stop or even reverse bone deterioration at the site of the missing teeth. The titanium post implanted in the jaw attracts bone cells, which grow and adhere to its surface. Over time the bone fills in and becomes stronger.
You don't want to wait too long, though, because implants depend on a minimum amount of bone present for secure placement. You should therefore undergo an implant restoration as soon as it's practical after tooth loss. Otherwise, although we may be able to restore some of the lost bone with bone grafting, you may need to consider another restorative option.
When it comes to replacing missing teeth, time isn't on your side. But the right kind of dental restoration undertaken promptly can make for a brighter, healthier future.
If you would like more information on restoring lost teeth, please contact us or schedule an appointment for a consultation. You can also learn more about this topic by reading the Dear Doctor magazine article "The Hidden Consequences of Losing Teeth."
By Peter Jost, D.D.S., P.C.
May 17, 2019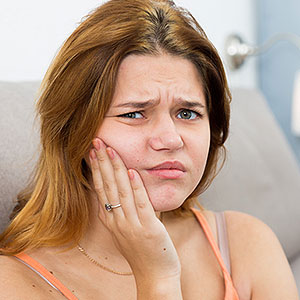 Losing a tooth can be traumatic, but a dental implant can dramatically turn that experience around. Providing functionality, life-like appearance and durability, implants stand out as the premier restoration for lost teeth.
For adults, that is. An older child or teenager with a missing tooth may need to wait a few more years for an implant. The reason: jaw development. A person's jaws, particular the upper jaw, continue to grow with most growth completed by early adulthood. Natural teeth with their periodontal attachments develop right alongside the jaw.
But because an implant attaches directly to the jawbone, its position is fixed: it won't change as the jaw grows and may gradually appear to sink below the gum line. That's why we wait to place an implant until most of jaw maturity has occurred after full jaw maturity. For females, we try to wait until 20 years of age and for males, usually 21 years of age. These are guidelines as some people mature faster and some slower, so a discussion with your dentist or surgeon is necessary to make an educated decision.
While we wait, we can install a temporary replacement for a child's or teenager's lost tooth, usually a partial denture or fixed modified ("Maryland") bridge. The latter affixes a prosthetic (false) tooth in the missing tooth space by attaching it to the back of natural teeth on either side with bonded dental material. It differs from a traditional bridge in that these supporting teeth aren't permanently altered and crowned to support the bridge.
During the time before implants we should understand that the area where the implant will be placed will undergo some bone deterioration, a common consequence of missing teeth. Forces generated as we chew travel through the teeth to stimulate renewing bone growth all along the jawbone. But with a lost tooth the chewing stimulation ceases at that part of the bone, slowing the growth rate and leading to gradual bone loss.
Fortunately, the titanium posts of dental implants stimulate bone growth as bone cells naturally grow and adhere to their surfaces. Before then, though, if the bone volume is diminished, we may need to graft bone material to stimulate bone growth that will enlarge the jaw bone enough for an implant to be placed.
It usually isn't a question of "if" but "when" we can provide your child with an implant for their missing tooth. In the meantime, we can prepare for that day with a temporary restoration.
If you would like more information on dental restorations for teenagers, please contact us or schedule an appointment for a consultation. You can also learn more about this topic by reading the Dear Doctor magazine article "Dental Implants for Teenagers."
By Peter Jost, D.D.S., P.C.
April 02, 2014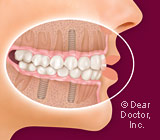 Modern dental implants, sometimes called "your third set of teeth," have revolutionized the practice of dentistry. As permanent replacements for missing teeth, dental implants are highly successful.
A dental implant is composed of two parts. The implant actually replaces the tooth root (like the root of your original tooth). It is usually made of commercially pure titanium, which has the capacity to fuse with the bone of your jaw. This fusion is called osseo-integration, meaning "becoming part of the bone." When this happens, living bone cells actually fuse with the surface layer of the titanium implant, which stabilizes the bone as well. A crown (the part of the tooth that is visible above the gum line) is attached to the implant and can be made of ceramic material that exactly matches the appearance of your natural teeth.
Studies have shown that the success rate of dental implants is greater than 95%. Here's what we need to know to make sure dental implants succeed:
We need to know about your general health. Do you smoke? What medications are you taking? Do you have osteoporosis or a compromised immune (resistance) system?
We will also perform a detailed assessment of the health of your teeth, gums, and jaws to ensure you are a candidate for dental implants.
Do you have sufficient bone to anchor the implants? Is the bone quality adequate? Tooth-supporting bone tends to melt away or resorb when a tooth is lost, so it is important to ensure that it is maintained when a tooth is lost or extracted. We can perform bone grafting to minimize resorption and build up bone tissue if necessary. We will consider the quality and quantity of your bone as part of your assessment.
After the implants have been placed, good dental habits are important. As with your natural teeth, carefully cleaning your new implant crowns and their surrounding gums every day is a necessity.
Continue to visit us on a regular basis. Regular checkups and maintenance can avoid breakdown of the surrounding bone and gum tissues.
If you grind your teeth, we can provide you with a night guard to help to protect your implants from wear and undue stress, which can affect the integration with the bone.
Implants are an excellent choice to replace missing teeth. Contact us today to schedule an appointment or to discuss your questions about dental implants. You can also learn more by reading the Dear Doctor magazine articles "Dental Implant Success Rate" and "Dental Implants: Your Third Set of Teeth."