Posts for tag: missing tooth
By Peter Jost, D.D.S., P.C.
January 04, 2016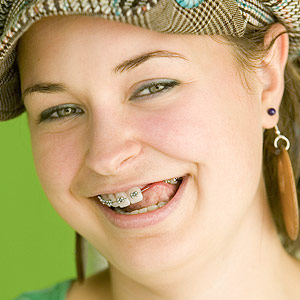 There are good reasons, for both health and appearance, to replace a missing tooth with a dental implant or similar restoration as soon as is practical. The bone around a tooth socket diminishes the longer it remains empty, up to 25% the first year. And, of course, your smile is less attractive, especially with a highly visible tooth.
If it's your teenager, though, you may need to wait on a permanent restoration because their jaws are still developing. An implant placed before completion of jaw development could eventually appear out of alignment with neighboring teeth.
Our biggest concern is protecting bone health at the site of the missing tooth. We can do this and encourage growth by placing bone grafts (processed minerals from another donor) that serve as scaffolds on which surrounding bone can grow. Grafts usually dissolve (resorb) over time, but the rate of resorption can be slowed for a younger patient in need of long-term bone growth.
Planned orthodontic treatment can usually go on as scheduled. The orthodontist may accommodate the tooth loss by adding a temporary tooth within the braces or other device that matches the color and shape of the patient's natural teeth. The orthodontist will also take care to maintain the empty space for a future implant or other restoration.
A dental implant is considered the best option for a missing tooth, not only for its life-like appearance and durability, but also its ability to encourage bone maintenance. Timing, though, is essential for teenagers. As it grows, the upper jaw will tend to move forward and down. Natural teeth move with this growth; implants, though, are attached differently and won't move with the jawbone. While the other teeth around them move, the implants can appear to shrink back resulting in an unattractive smile appearance. So waiting until the jaw has finished growing is important.
For most people, jaw growth finishes by age twenty-one for men, women usually faster, but each person is different. The dentist's expertise and experience, coupled with comparisons of adult family members' facial appearances, will help determine the right time to undertake a permanent restoration for the best outcome both for health and a permanent, attractive smile.
If you would like more information on treating teenagers with missing teeth, please contact us to schedule an appointment for a consultation. You can also learn more about this topic by reading the Dear Doctor magazine article "Dental Implants for Teenagers."
By Peter Jost, D.D.S., P.C.
April 02, 2014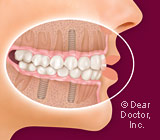 Modern dental implants, sometimes called "your third set of teeth," have revolutionized the practice of dentistry. As permanent replacements for missing teeth, dental implants are highly successful.
A dental implant is composed of two parts. The implant actually replaces the tooth root (like the root of your original tooth). It is usually made of commercially pure titanium, which has the capacity to fuse with the bone of your jaw. This fusion is called osseo-integration, meaning "becoming part of the bone." When this happens, living bone cells actually fuse with the surface layer of the titanium implant, which stabilizes the bone as well. A crown (the part of the tooth that is visible above the gum line) is attached to the implant and can be made of ceramic material that exactly matches the appearance of your natural teeth.
Studies have shown that the success rate of dental implants is greater than 95%. Here's what we need to know to make sure dental implants succeed:
We need to know about your general health. Do you smoke? What medications are you taking? Do you have osteoporosis or a compromised immune (resistance) system?
We will also perform a detailed assessment of the health of your teeth, gums, and jaws to ensure you are a candidate for dental implants.
Do you have sufficient bone to anchor the implants? Is the bone quality adequate? Tooth-supporting bone tends to melt away or resorb when a tooth is lost, so it is important to ensure that it is maintained when a tooth is lost or extracted. We can perform bone grafting to minimize resorption and build up bone tissue if necessary. We will consider the quality and quantity of your bone as part of your assessment.
After the implants have been placed, good dental habits are important. As with your natural teeth, carefully cleaning your new implant crowns and their surrounding gums every day is a necessity.
Continue to visit us on a regular basis. Regular checkups and maintenance can avoid breakdown of the surrounding bone and gum tissues.
If you grind your teeth, we can provide you with a night guard to help to protect your implants from wear and undue stress, which can affect the integration with the bone.
Implants are an excellent choice to replace missing teeth. Contact us today to schedule an appointment or to discuss your questions about dental implants. You can also learn more by reading the Dear Doctor magazine articles "Dental Implant Success Rate" and "Dental Implants: Your Third Set of Teeth."