Posts for tag: periodontal disease
By Peter Jost, D.D.S., P.C.
October 09, 2014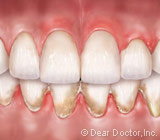 Periodontal or gum disease is a serious condition that could lead to tooth and bone loss. Unfortunately, you may not even realize you have it — the disease in its early stages can be difficult to detect. If you know what to look for, however, a few signs can tell you something isn't quite right.
Bleeding gums after brushing, for example, are a likely indication that your gum tissues are inflammed due to an infection caused by bacterial plaque. Coupled with chronic inflammation from the body's response to the infection, the unhealthy tissues bleed easily.
As the disease progresses, you may also notice changes in your gums' appearance: redness at the gum line, as well as some slight swelling. Receding gums expose more of the tooth below the enamel crown. As roots become exposed to the oral environment, you'll begin to notice painful sensitivity to hot or cold. In time, the disease may cause bone loss producing other signs like loose teeth or teeth shifting from their original position.
In some cases, gum disease can cause a painfully acute abscess. This occurs when the bacterial infection becomes isolated in a pocket of space between the teeth and gums. As the body attempts to fight the infection, its defenses are overwhelmed and the abscess becomes painful, swollen and filled with pus.
If you encounter any of these signs, it's important to take action quickly to minimize the damage and stop the disease's progress. Our first priority is to remove as much bacterial plaque and calculus as possible and may consider antibacterial and antibiotic treatments. This may take more than one session, but it's necessary in stopping the disease.
Long-term success, though, will depend on improved oral hygiene (brushing and flossing), regular office cleanings to remove difficult to reach plaque and calculus, and checkups to monitor the condition of your gums. You can also lower the risk of reoccurrence with improvements in diet and life-style (such as quitting smoking). Instituting better hygiene and lifestyle habits, as well as keeping alert to any signs of recurring disease will go a long way in preserving your teeth and overall oral health.
If you would like more information about periodontal disease and its effect on your health, please contact us or schedule an appointment for a consultation. You can also learn more about this topic by reading the Dear Doctor magazine article "Warning Signs of Periodontal (Gum) Disease."
By Peter Jost, D.D.S., P.C.
May 02, 2014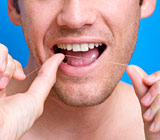 Your gums are red around the margins and bleed whenever you brush or floss but there's minimal to no pain... You: (select the most appropriate answer[s])
are brushing or flossing too vigorously
have an accumulation of dental plaque where the teeth meet the gums
are using a toothbrush that's too firm
are experiencing early signs of gum disease
should see your dentist if this persists for more than 6 months
Kudos if you picked b) and d). The most common cause of bleeding gums is the accumulation of dental plaque (bacterial deposits) at the gum line, which is an early sign of periodontal (from the Latin "peri" – around, and the Greek "odont" – tooth) disease. It is usually painless so people tend to underestimate the risk of allowing gum disease to progress and become a more significant problem.
It's a common misconception that bleeding gums are caused by brushing or flossing too vigorously or using a toothbrush that's too firm. This is sometimes the case, but the abrasion would probably cause noticeable pain. Instead, it's likely that you're not brushing and flossing effectively enough, allowing bacterial deposits to accumulate at the gum line and feed on food particles that haven't been adequately flushed from your mouth.
The bacterial deposits form a whitish film that is hard to detect when you look in the mirror. But you will notice bleeding and redness and eventually inflammation of the gums — an immune response to disease-causing bacteria that flourish in the plaque. As the biofilm grows, with time it also hardens (calcifies), making it increasingly difficult to dislodge. Eventually, only professional cleaning can remove it and sometimes antibiotics are needed. If no action is taken, gum disease will progress, and eventually cause loss of the underlying bone that anchors the teeth.
There are other reasons that gums may bleed, such as elevated hormone levels in women, a side effect of certain medications, or a systemic (bodily) disease. Whatever the cause, it's important to get a professional diagnosis promptly and take appropriate therapeutic action as needed. Optimally, with good oral hygiene and regular checkups, you can avoid this problem entirely!
If you would like more information about preventing or treating bleeding gums, please contact us or schedule an appointment for a consultation. You can also learn more about this topic by reading the Dear Doctor magazine article "Bleeding Gums."
By Peter Jost, D.D.S., P.C.
November 25, 2013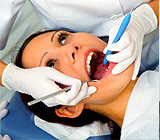 Did you know that roughly 75% of Americans suffer from some sort of gum disease? Gum disease (also known as periodontal disease) refers to the progressive loss of attachment between the fibers that connect the bone and gum tissues to the teeth, and the consequential loss of the tooth-supporting bone itself.
As you get older, your chances for developing gum disease increase significantly. Here are a few other factors that might put you at a higher risk for developing gum disease:
Family History. 30% of the population may be genetically susceptible to gum disease. Luckily, there are new tests that can assess if you are at risk. However, even with good oral hygiene, studies have shown that genetically susceptible individuals may be 6 times more likely to develop gum disease.
Tobacco. Smokers are four times more likely to develop periodontal disease. Smokers have more disease-causing biofilm bacteria and collect it more quickly. They also lose more attachment between the teeth and gums, which leads to more loss of bone that supports the teeth.
Bleeding Gums. Some people mistakenly think that it is normal for their gums to bleed when they brush. In fact, this is an indication that you are not brushing and flossing effectively and a common symptom of gum disease. Pregnant women are also more likely to have bleeding gums, because elevated hormone levels may cause gum tissues to be more responsive to bacterial biofilm, thus bleeding more easily. That is why we recommend that pregnant women have regular cleanings at three to four month intervals.
We often refer to gum disease as silent, because symptoms may not appear until the disease has advanced. For this reason, you should conduct a self-assessment to identify if you are at risk.
Have your gums receded and/or do your teeth appear longer?
Are any of your teeth feeling or getting loose?
Do your gums appear red or swollen?
Have you recently had a tooth or teeth extracted because they were loose?
If you answered "yes" to any of these questions, then you may be at risk for gum disease. You should make an appointment with our office so that we can conduct a thorough examination and prescribe treatment, if necessary.
If you would like more information about gum disease, please contact us or schedule an appointment for a consultation. You can also learn more by reading the Dear Doctor magazine article "Assessing Risk for Gum Disease."