Posts for tag: root canal
By Peter Jost, D.D.S., P.C.
August 24, 2016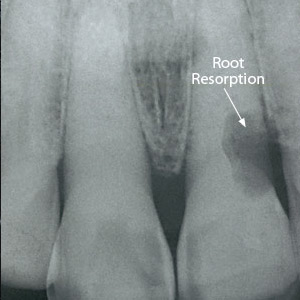 As a new permanent tooth develops, the roots undergo a process of breakdown and growth. As older cells dissolve (a process called resorption), they're replaced by newer cells laid down (deposition) as the jaw develops. Once the jaw development ends in early adulthood, root resorption normally stops. It's a concern, then, if it continues.
Abnormal root resorption most often begins outside of the tooth and works its way in, beginning usually around the neck-like (or cervical) region of the tooth. Also known as external cervical resorption (ECR), the condition usually shows first as pink spots where the enamel is being undermined. As these spots continue to erode, they develop into cavity-like areas.
While its causes haven't been fully confirmed, ECR has been linked to excessive pressure on teeth during orthodontic treatment, periodontal ligament trauma, teeth-grinding or other excessive force habits, and bleaching techniques performed inside a tooth. Fortunately, ECR is a rare occurrence, and most people who've had these problems won't experience it.
When it does occur, though, it must be treated as quickly as possible because the damage can progress swiftly. Treatment depends on the size and location of the resorption: a small site can often be treated by surgically accessing the tooth through the gum tissue and removing the offending tissue cells. This is often followed with tooth-colored dental material that's bonded to the tooth to replace lost structure.
A root canal treatment may be necessary if the damage has extended to the pulp, the tooth's interior. However, there's a point where the resorption becomes too extensive to save the tooth. In these cases, it may be necessary to remove the tooth and replace it with a dental implant or similar tooth restoration.
In its early stages, ECR may be difficult to detect, and even in cases where it's been diagnosed more advanced diagnostics like a CBCT scanner may be needed to gauge the extent of damage. In any case, it's important that you have your teeth examined on a regular basis, at least twice a year. In the rare chance you've developed ECR, the quicker it's found and treatment begun, the better your chances of preserving the tooth.
If you would like more information on root resorption, please contact us or schedule an appointment for a consultation.
By Peter Jost, D.D.S., P.C.
March 11, 2016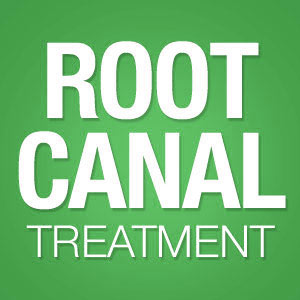 The term "root canal" is a part of our social lexicon, and not always with a positive meaning. But contrary to its negative reputation, a root canal treatment can make all the difference in your dental health.
Here are 3 things you may not know about this important procedure.
A root canal treatment is a "tooth" saver. Decay deep inside the tooth pulp puts the entire tooth at risk. The infection not only destroys nerves and tissue in the pulp, it has a direct path to the root through tiny passageways known as root canals. By cleaning out this infected tissue, then filling the empty pulp chamber and the root canals with a special filling, the procedure stops the disease from further harm and seals the tooth from future infection. Without it, it's highly likely the tooth will be lost and other teeth threatened by the infection.
A root canal doesn't cause pain — it relieves it. The biggest misconception about root canal treatments is their supposed painfulness. That's just not true, thanks to anesthetic techniques that numb the teeth and gums — and any discomfort afterward is quite manageable with mild anti-inflammatory drugs like ibuprofen. The procedure actually stops the real pain, caused by the infection damaging and finally killing the tooth's nerves, when it stops the infection.
Root canal treatments are even more effective thanks to recent advancements. Not all infected tooth situations are the same: some teeth have smaller offset passageways called accessory canals that grow off a larger root canal that can be quite difficult to detect and access. Missing them can leave the door open for re-infection. In recent years, though, endodontists, specialists in root canal disorders, have improved the way we address these complications using advanced technologies like specialized microscopic equipment and new filling techniques. The result: a lower risk of re-infection and a higher chance of long-term success.
Hopefully, you'll continue to enjoy good dental health and won't need a root canal treatment. But if you do, rest assured it won't be the unpleasant experience you might have thought — and will be a welcomed solution to pain and threatening tooth loss.
If you would like more information on root canal treatments, please contact us or schedule an appointment for a consultation. You can also learn more about this topic by reading the Dear Doctor magazine article "A Step-By-Step Guide to Root Canal Treatment."