Posts for tag: tooth pain
By Peter Jost, D.D.S., P.C.
August 20, 2018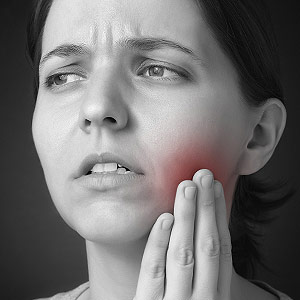 Determining which of your teeth is causing your toothache isn't always easy — or even if it's a tooth at all. The pain could be coming from a tooth, the gums, or both. Only a thorough dental examination can pinpoint the exact cause and best course of treatment.
If a decayed tooth is the problem, the pain may be coming from nerves and other tissue deep within the tooth's pulp. The symptoms could be dull or sharp, constant or intermittent, specific to one area or spread out. It's even possible for the pain to suddenly subside after a few days. This doesn't mean the infection has subsided, but rather that the infected nerves have died and no longer transmit pain. Pain can also radiate from the actual source and be felt somewhere else — the pain in your sinuses, for example, could actually originate from an infected back tooth.
If the source is periodontal (gum) disease, the infection has begun in the gum tissues. As they become more inflamed they lose their connectivity with the teeth, bone loss occurs and the gums may "recess" or draw back. This exposes the tooth root, which without the protective cover of the gum tissues becomes highly sensitive to changes in temperature or pressure. As a result you may encounter sharp pain when you eat or drink something hot or cold, or bite down.
Treating these issues will depend on the actual infection source. An infected tooth often requires a root canal treatment to clean out the pulp and root canals of dead or infected tissue, fill them with a special filling, and seal and crown the tooth to prevent future infection. If the source is gum disease, we must manually remove the bacterial plaque causing the disease from all tooth and gum surfaces to stop the infection and allow the gums to heal. In advanced cases, surgical procedures may be necessary to repair damage and encourage new gum and bone growth.
Where dental disease has spread from tooth to gums or vice-versa, you may need treatments for both areas to address your overall condition. Whatever the treatment course, we can put an end to your tooth pain and restore health to your teeth and gums.
If you would like more information on the sources of mouth pain, please contact us today to schedule an appointment for a consultation. You can also learn more about this topic by reading the Dear Doctor magazine article "Confusing Tooth Pain."
By Peter Jost, D.D.S., P.C.
April 30, 2015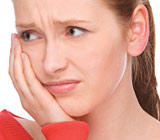 Tooth pain occurs when a trauma or infection triggers a reaction from the nerves inside a tooth's pulp chamber. The severity of the pain and its duration can vary depending on the underlying cause, which can include anything from a loose filling to an abscess. Ignoring symptoms not only results in unnecessary physical and emotional pain, but can also lead to more expensive dental treatment as problems become more complex. Make an appointment with our office today if you are experiencing any of the following symptoms:
Sharp pain when biting down on food — This type of pain could be indicative of a cracked tooth, loose filling, or tooth decay that is affecting one or more of your teeth. We can remove decay and replace a loose filling, but if your tooth is cracked, we will have to determine the location and depth of the crack before formulating a treatment plan. In some cases, root canal treatment or even extraction may be necessary.
Pain that lingers after eating hot or cold foods or liquids — Mild and short-term sensitivity (lasting only seconds or a minute) to hot and cold foods resulting from gum recession can often be soothed by using a fluoride toothpaste made for sensitive teeth. However, an inflamed tooth pulp or one that is dying due to severe decay could cause sensitivity that lingers for a long time after exposure. In this case, root canal treatment may be necessary to remove dying pulp tissue in order to save the tooth.
Constant severe pain and pressure, swelling of the gums, and sensitivity to touch — Infections and/or abscesses can spread from the tooth pulp into the surrounding periodontal tissues and bone causing this type of pain. Root canal treatment will most likely be required.
Dull ache and pressure on one or both sides of the face in the upper teeth region — The sinuses and upper back teeth share the same nerves, so, oftentimes, referred pain from sinus congestion or infection can feel like a toothache. A thorough examination can determine whether or not the pain is dentally related.
If you are experiencing tooth pain, call our office immediately so that we can begin to provide you with some relief. To read about other symptoms of tooth pain and possible treatment options, read the Dear Doctor magazine article "Tooth Pain? Don't Wait!"
By Peter Jost, D.D.S., P.C.
September 08, 2014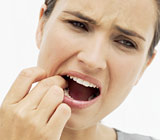 We now have amazing therapies to replace lost teeth with life-like replicas that look and perform like real teeth. But for oral health in general it's still better to save a natural tooth if we can.
That's the main purpose of a root canal treatment — to rescue a tooth whose pulp (an area of tissue and nerve bundles inside the tooth) has died from trauma or ravaged by a bacterial infection that continues to progress up into the bone via the root canals. By accessing the pulp through a small opening in the top of the tooth we remove the dead and infected pulp tissue, thoroughly disinfect the empty pulp chamber and root canals, and then fill them with a special filling. We then seal the opening (and later install a permanent crown) to prevent future fracture of the tooth and re-infection.
So, how can you know your tooth is in danger? Your first indication may be an intense tooth pain that comes on quickly. This pain is emanating from the nerves in the pulp as the tissue begins to die. Once the nerves have died, they will no longer transmit pain signals: hence the pain will subside rather quickly in about two or three days.
So it is important to understand that the absence of pain doesn't mean the infection has subsided — quite the contrary, it's still present and active, making its way along the root canals of the tooth. At this point you may begin to notice a secondary pain when you bite down on the tooth. This is originating from other nerves located around the periodontal ligament (the main tissue that helps hold teeth in place with the bone) as the tissues become inflamed from the infection. You may also develop an abscess, an area in the gum tissue where infectious pus may collect. Depending on its location, the abscess can be acutely painful or "silent," meaning you may not feel any pain at all. The infection is still there, though, and the tooth is still in danger.
If you encounter any of the pain symptoms just described, you should visit us for an examination as soon as possible. If the cause indicates the need for a root canal treatment time is of the essence — the longer we delay, the greater the risk of ultimate tooth loss.
If you would like more information on root canal treatments, please contact us or schedule an appointment for a consultation. You can also learn more about this topic by reading the Dear Doctor magazine article "Signs and Symptoms of a Future Root Canal."