Dental Staff
The brief descriptions below are designed to familiarize you with our staff's training, professional credentials and work experience.
Dr. Peter Jost
Dentist in Eastpointe, MI
Peter Jost, D.D.S., P. C.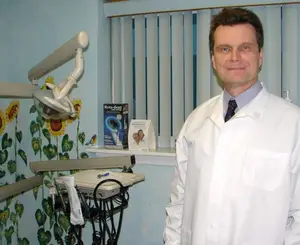 Dr. Jost is a 1981 graduate of the University of Michigan School of Dentistry where he received first-rate training in all aspects of general dentistry. In 1983, Dr. Jost was approached by his family dentist, Dr. Edgar Grieshaber, to continue serving the families of Eastpointe and surrounding communities upon his retirement.
Through a combination of state of the art technology, sensible treatment plans and genuine devotion to the unique needs of each patient Dr. Jost and his dedicated staff preserves healthy teeth and gums, alleviates oral discomfort and improves the appearance of smiles on a daily basis. He has applied his unique blend of artistic and technical skill to produce durable and aesthetic results in thousands of patients. A devoted dentist with a grasp of the most innovative, minimally invasive new procedures, Dr. Jost is dedicated to lifelong learning through continuing education courses.
Dr. Jost is licensed by the Dental Board of Michigan and is a member of the American Dental Association , Macomb Dental Society, Academy of General Dentistry and Michigan Dental Association . He is fluent in German.
From left to right: Tabitha Tasker, Rita Juhasz, Hygienist, Laurie Jost, Dr. Peter Jost, and
Carolyn Chandrasekar.
Tabitha Tasker, Dental Assistant
Tabitha is a certified dental assistant and possesses an expanded background in radiology. She is a 2007 graduate of Sanford Brown in Tampa, FL. Tabitha is extremely dedicated to giving patients a comfortable experience and focuses on helping each patient receive an excellent experience.
Tabitha chose dental assisting as a profession because she finds it rewarding to help people gain confidence and improve their self-esteem through proper dental hygiene and care. Working at Dr. Jost's office allows her the opportunity to meet the nicest people, and she can help patients achieve a healthy life by gaining a beautiful smile.
A self-described "country girl," Tabitha enjoys horseback riding, gardening, off-road vehicles, motocross, skydiving, and pretty much anything that has to do with being outdoors.